Our VISION is to see the unique creative spirit and inventiveness of every Baltimore community reflected and expressed in its public spaces.
In 2007, ARTblocks was a recipient of an Open Society Institute Community Fellowship. Since then, we've been making Baltimore a more artful and livable city, block by block.
---
Deborah Patterson, Founder and Director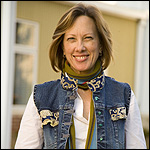 As the founder of ARTblocks, local artist Deborah Patterson organizes and leads workshops within communities, raises funds through grants, donations and partnerships, works with leaders and organizations to bring visions to fruition, and even creates some of the art.
Deborah spent 12 years working with youth as a community artist in the Pimlico, Park Heights community. ARTblocks originated here as a means for bringing art out of the classroom and into the community for all to participate.
Her formal training in the grassroots process of Placemaking took place with Project for Public Spaces in New York City. PPS provides ARTblocks with the means for helping communities create a comprehensive plan for their public spaces that is uniquely their own.
---
Board of Directors
Dr. Samuel Springer, Vice President
A noted musician, Samuel is Professor of Music at Morgan State University
Eric Pripstein, CPA, Treasurer
Devoted to arts in education, Eric is a founding partner of the firm, Coale, Pripstein & Associates
Senator Bill Ferguson
Maryland State Senator
Caprece Jackson-Garrett
Principal, Bonneau Caprece LLC: Strategic Marketing, Event Management and Public Relations
Deanna Nikaido
Poet and Graphic Designer for "Book in a Day"
Elisa Ghinger
Executive Director, Hampden Family Center
Dr. Garry Jennings
Anesthesiologist & Owner of Toscana Medispa in Little Italy
Pat Cruz
Education Director, Young Audiences Arts for Learning of Maryland
---
Collaborators & Supporters
---