---
Mondawmin (current)
2013: Five life-size elephant sculptures to slow down traffic and beautify an intersection.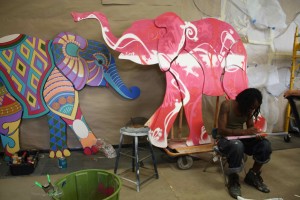 Our biggest project to date!
One of the exciting results of our creative placemaking workshop with the Mondawmin community,  it is their creative solution to a busy, ugly and dangerous intersection in their community.
PNC Bank provided the initial funding for the elephants, which were constructed by local artist, Barbara Thompson–whose studio is within the community–with assistance from local painters and crafts p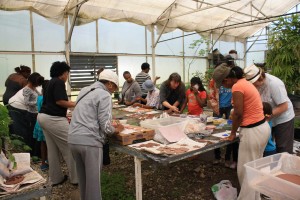 eople.
The elephants are stunning. One side is painted–each by a different local artist–and the other side has designs created from recycled materials (bike parts, hub caps, fly wheels, etc).  At the bases are mosaic triangles created by Mondawmin residents, Westside Elementary School students, and other community members in year-long workshops we conducted at Rawlings Conservatory.
Broad-based community support for the elephants—including adoptions by The Maryland Zoo, Antwerpen Motors, an anonymous donor, as well as in-kind gifts from National Lumber, P. Flanigan & Sons, and Sherwin Williams—illustrate the extraordinary things we can accomplish in Baltimore through collaboration!
The great news is that we have finally received approval for their installation inside Druid Hill Park on Auchentoroly Terrace between the intersections of Gwynns Falls Parkway (The Intersection!) and Liberty Heights.
An additional $5,000 towards the installation is still needed.  We're hoping for a mid-December installation. [Won't you be please contribute to this fabulous project?]  Thank you!
Our partners and collaborators on this project:
---
Mondawmin (current)
Westside Elementary School: "Trees of Life"
As part of our creative placemaking efforts in Mondawmin, ARTblocks is collaborating with Westside Elementary School to beautify and artistically transform the school's façade.
Entitled "Trees of Life", the project consists of large hand-crafted mosaic tree trunks at the base with a living wall as the tree canopy.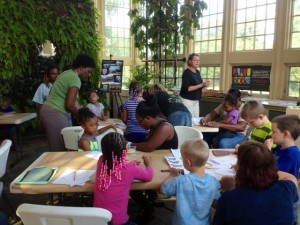 A generous Gutierrez Memorial Fund grant provided us with the initial funding to create the mosaic tree trunks with Westside students during the school year and all summer long in workshops with the students, their families, and the Mondawmin community at Rawlings Conservatory.  The reach of the workshops went beyond expectations, with an average attendance of forty community members — mothers and children, fathers and children, old people and young.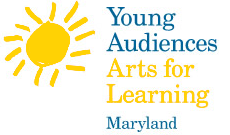 Through a grant from Young Audiences Arts for Learning, Maryland, ceramic artist, Amanda Pellerin, will work with teachers to incorporate their curriculum into the creation of additional mosaic tree trunks during school hours.
Botanical artist Edmundo Ortega will work with Westside's Green Thumb Club to complete the living wall.
We currently seek $18,000 to complete the living wall.  [Won't you be part of this extraordinary community project? Please contribute here!]
---
Mondawmin (completed)
2012: Rawlings Conservatory The Living Chair
Funded by a 2012 Partnership for Parks grant from Parks & People, this organic sculpture was created through collaboration with the Mondawmin Community Association, Rawlings Conservatory, and Friends of Druid Hill Park. Our common goal was to provide a venue for a story hour at the Druid Hill Park Farmers Market that complemented our previous successes in this neighborhood (see below) and provide the community's children with an opportunity to learn, "Grow" and socialize.
The chair was created by local artists, Edmundo Ortega (botanical), Joe Kabriel, and our very own Director of ARTblocks, Deborah Patterson.
---